PAST
Previously at El Sótano...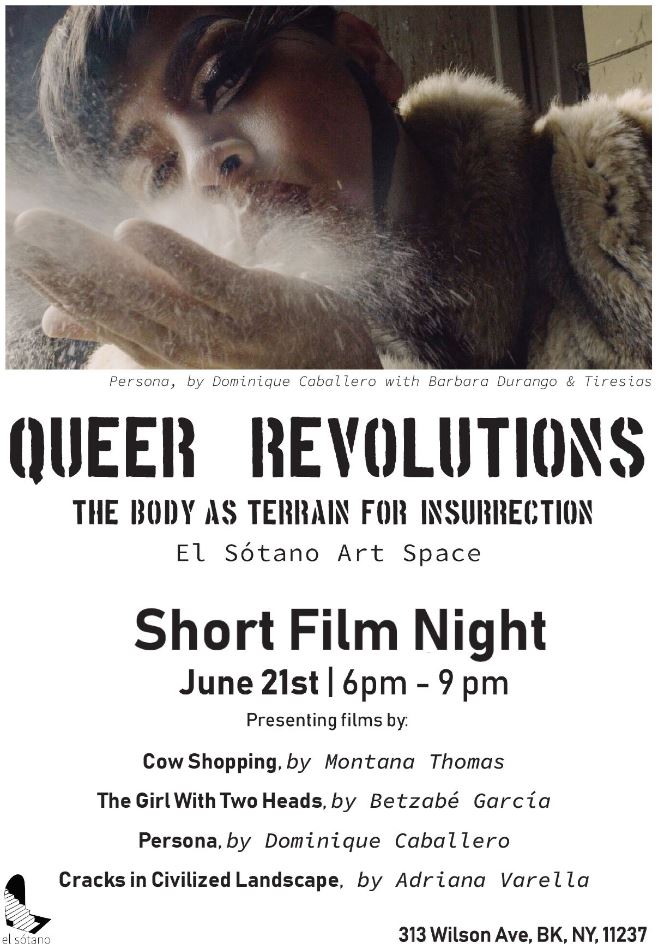 Queer Revolutions Short film night
Join us as we continue celebrating, remembering and commemorating Queer Revolutions with a film night. Presenting a diverse selection of films that showcase different aspects of queer life and community.

- Dominique Caballero (Mexico), showing 'Persona' a poetic and intimate portrait of two drag queens in Mexico City who narrate their story of coming into themselves and how their families and friends reacted. ( IG: @nasty_laser )

- Montana Thomas (New York), 'Cow Shopping' produces a metaphorical time machine in which we can examine power, wealth, whiteness, violence within aristocracy, excess, and queer dissolution within these oppressive spheres through a descontructionist and comedic approach. ( www.montanathomas.com )

- Betzabé García (México), 'The Girl With Two Heads' is a short film about a young woman who is exploring her own gender identity, coming into womanhood and seeing herself in her own terms. ( vimeo.com/betzabegarcia )

- Adriana Varella (Brazil), accompanying their photo installation in the exhibition "Queer Revolutions", this film narrates the intervention of Adriana and their partner in historical architecture which was queered by them through performance. ( www.adrianavarella.net )
Queer Revolutions: The Body as Terrain for Insurrection
Opening Reception: June 7th 6-9pm
Exhibition dates: June 7th - JUly
Selected artists:
Adriana Varella
Aelita Parizek
Ainé Marín
Anobis Garcia
Bartolina Xixa & Elisa Portillo
Karen Blandon
Linea de Luz
Manuel D. Lira
Tony Whitfield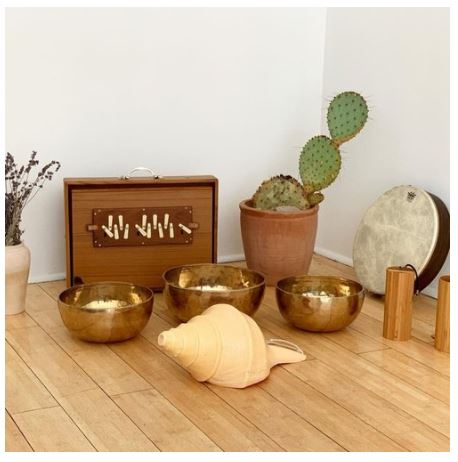 Summer Weekly Sound Baths
Wednesdays 7:30pm
During the summer of 2019 we collaborated with Samer Ghadry from ToneCenter. Beginning on May 1st, we hosted weekly sound baths at El Sótano. The aim of these sound baths was to provide a space and time for healing and self care in the community. We look forward to hosting more events like these!
/noun./ verb./ ad·jec·tive./ Exhibition
Opening Reception: May 3rd 6pm
Live Reading of "A Survey of the Bottom of the United States" by artist Nicole Wilson at 8pm.
Exhibition Dates: May 3rd - May 19th
Selected Artists:
Jess Bass & Karolina Manko
Britni Chehayeb
Robert Ladislas Derr
Liam Herne
George Lorio
Deepa Mahajan
Chris Revelle
Nirvana Santos
Live Reading by Nicole Wilson
Visual artist Nicole Wilson will be doing a live reading of her work A Survey of the Bottom of the United States on May 3rd, 2019 as part of the opening reception of /noun./ verb./ ad·jec·tive./ Exhibition.
Artist Conversation: Jean Michael Vissepó and Kevin Quiles Bonilla
Identity, Space, and Politics in Puerto Rico and Beyond
Jean Michael and Kevin, both use their art to explore power, space, and history in relationship to their identity both being artist from Puerto Rico. They view their practice as a tool for decolonization. Through diverse mediums they dismantle and address issues of systematic structures that oppress and exclude non-normative bodies, specifically in the context of the colonial relationship between Puerto Rico and the United States. We invite you to join us as they discuss these topics and how to address them productively through art.
Jean-Michael Vissepó Ocasio
Born in San Juan, Puerto Rico
Jean-Michael Vissepó Ocasio uses the phrase "In Bituin," in his work to describe the space where his identity resides being an artist from Puerto Rico living and working outside of the island. His works as a visual artist with the medium of crayons and the #IslaTrap Twitter project explore space, politics, history, contemporary Puerto Rican pop culture and his personal identity in relation to the geopolitics of Puerto Rico. As socially engaged artist he creates social artistic programming for autistic children, after school programs, correctional facilities, therapy centers, displacement/refugee camps in Africa, rural villages in Latin America, and marginalized communities in Puerto Rico and the United States. He is also street performance artist.
Kevin Quiles Bonilla
Born in San Juan, Puerto Rico.
Graduate from Parsons, The New School of Design in New York City with an MFA in Fine Arts with Honors, and the University of Puerto Rico with a BA in Fine Arts magna cum laude. His artistic production has been presented in a solo show in Puerto Rico, as well as collective exhibitions in The United States, Mexico, China, Belgium, and Japan. He's the recipient of a 2017 Emerging Artist Award from The Kennedy Center in Washington, DC. He explores ideas around power, space, and history with his identity as context.
Open Call: /noun./ verb./ ad·jec·tive./
This is an open call for art that uses language as a medium and tool. Language should be considered beyond just a visual element. Artists should consider language in its broadest definition and more than simply a system of communication.
Open call deadline: April 1st
Exhibition dates: April 26th - May 19th
Email submissions and questions to: elsotanoartspace@gmail.com
Art in all mediums is accepted.
360 Video by Leon Tongwei
Crossings Exhibition
Crossings Exhibition: December 7th-15th
Opening Reception: December 7th from 6-9pm
Live Performance by Eva Lia Pedriglieri of Bailando con Mi Mama a Larga Distancia at 7:30pm
Artists exhibiting:
Maria Askew & Ben Osborn
Sadie Coughlin-Prego
Gian Luigi Braggio
Jessica Renzelman
Michael Ensminger
Luisa Valderrama
Eva Lia Pedriglieri
Heather Layton
Jenny Balisle
Live Performance: Bailando con Mi Mama A Larga Distancia
Eva Lia Pedriglieri will be performing her piece, Bailando con Mi Mama A Larga Distancia, live at the opening reception of Crossings Exhibition
Opening Reception: Dec 7th 6-9pm
Live Performance at 7pm
This "baile con mi madre" (dance with my mother) is an exploration of dancing as a form of language/knowledge passed down through generations, as Eva attempt to have a conversation with her mother, Luisa Pedriglieri, using dance moves and music she's learned to appreciate from her. Their long distance relationship is based on phone calls and FaceTime conversations--her mother lives in her hometown of Fort Lauderdale, while she currently lives in the Bronx. This work bridges this divide through the technology we are accustomed to interacting with, but with the goal of sharing an intimate moment doing something that they typically do in person. The mix features music/genres from the Dominican Republic, her mother's home country, as well as their all-time favorite American disco song to reflect on their family's migration from the DR to the US.
Eva Lia Pedriglieri is an interdisciplinary artist based in New York City but frequently travels back to her native South Florida. She currently attends The New School in NYC, working towards dual degrees in Fine Arts at Parsons and Culture & Media Studies at Eugene Lang. Being from a multiethnic background, Dominican and Italian, her work deals with themes of multiculturalism, family, and identity. She is interested in developing work that incorporates artistic aesthetic with cultural investigation, community, and personal experience. She works with innovative mediums such as performance, video/sound, and installation, as well as traditional painting and drawing techniques.

Open Call For Art: Crossings
This show addresses the changing essence of identity through the process of immigration. Our definition of immigration is not limited to the crossing of geographical divisions. We define it as the significant movement of a person through borders whether they be physical, emotional, social, ideological, and/or conceptual in either literal and/or figurative modes. We find it important to broaden the definition of immigration for this exhibition and include actions that encompass more than the literal meaning of the word to embody the full spectrum of the process of moving from one place/thought/emotion/identity/etc to another. We encourage artists to interpret this definition in their own creative manner.
Through this exhibition, we seek to create a space that brings together a variety of experiences that intersect at the crossroads of change and identity.
Exhibition: Dec. 7-15th
Artist Talk: Maria Del Pilar Lopez Saavedra
October 12, 2018
Artist Talk: Maria Del Pilar Lopez Saavedra
Maria Del Pilar Lopez Saavedra is a Colombian born, Miami raised, New York-based artist. PILI talks about their artist practice that investigates the intersection of Queerness, religion, and symbolism in Latine/x culture through performance, installation, and object/image making. Julio Rodriguez, co-founder and co-director of El Sótano facilitated the conversation.
Video recording of the event below.
Copyright 2019 © El Sótano Art Space